Weekly classes
Children's Programs' Weekly Classes are developed for children and teenagers, from grade two through high school. Taught by experienced K-12 educators, our courses will help your child excel or catch-up in key academic subjects, including writing, math and engineering.
Classes are two-hours long and held Monday through Friday on the California State University, Fullerton main campus. Below you will find a preview of the classes that may be available next summer. You can view program dates and costs on our Fees & Schedule page.
Please note that grades and ages listed are suggestions. Please contact us if you have any questions regarding the class' suitability for your child.
Early Writer's Workshop
Ideal for: Grades 2-3 (7-9 years old)
This course helps your child develop confidence in their writing through contemporary techniques and organizational mapping. The course covers:
Writing processes, including graphic and map organization
Sentence and paragraph construction and structure
Story development, with a focus on expository- and narrative-writing elements.
Young Writer's Workshop
Ideal for: Grades 4-5 (9-11 yrs old)
The advanced writing exercises in this class helps your child express themselves clearly in writing. The concepts covered include:
Sentence and paragraph structure, as well as short essay writing
Personal narrative and persuasive writing.
Middle School Writing Workshop
Ideal for: Grades 6-9 (11-15 yrs old)
This class prepares your child to write at a high school level by developing their writing process. The course covers:
Prewriting and brainstorming techniques
Drafting and editing
Writing in a variety of formats, including biographical and expository.
Brush Up on Your Math Skills
Ideal for: Grades 4-5 (9-11 yrs old)
In this class, your child builds their confidence and strengthens their math skills. The concepts covered include:
Addition, subtraction, multiplication, division and place values
Round numbers, decimals and fractions
General coordinates and bar graphs
Circle, perimeter, volume, area and measurements.
Pre-Algebra Basics
Ideal for: Grades 6-7 (11-13 yrs old)
This course introduces your child to pre-algebra basics to prepare them for math at the junior high school level. Students will:
Review elementary mathematics and principles
Learn signed numbers, and beginning rules for algebraic evaluations and equations.
Algebra I Problem Solving
Ideal for: Grades 7-8 (12-14 yr olds)
By providing a foundation in problem solving strategies, this class prepares your child for Algebra I. The course covers:
Variables and algebra equations, and using formulas to solve equations
Real numbers, integers and consecutive integer problems
Evaluating expressions, and solving equalities and inequalities.
Introduction to High School Geometry
Ideal for: Grades 8-11 (13-16 yr olds)
This course introduces your child to high school level geometry. Concepts covered include:
Geometric definitions, constructions, congruence and measurements
Inductive and deductive reasoning
Construction of proofs using definitions, postulates and theorems focusing on triangle congruence relationships.
Algebra II
Ideal for: Grades 8-12 (14-18 yr olds)
Designed for students who have completed Algebra I, or have a solid knowledge base to build upon, this class introduces your child to Algebra II. Students will:
Review Algebra I concepts
Learn advanced polynomials, rational equations and negative exponents.
RoboCircuitz
Ideal for: Grades 2-4 (7-10 yr olds)
Ideal for children who enjoy hands-on problem solving, this class helps your child understand complex engineering concepts. The course provides:
A foundation in coding, robotics and circuit building
Personalized and self-paced learning, with only six students per instructor
Building and programming of LEGO robotic models and working electrical circuits with Snap Circuits through team collaboration.
You can learn more about this class in a recent story from the Orange County Register
.
What's your next step?
Learn about Art Camp or join the Children's email list. By joining the list you will also receive program and registration updates.
Art camp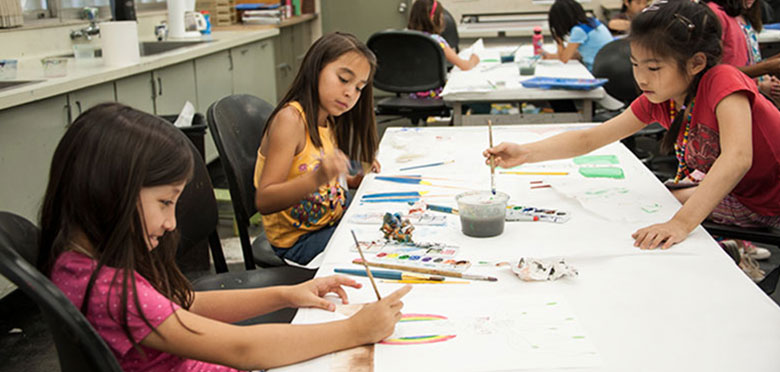 Art Camp allows your child to engage their creativity through painting, 3D sculpture and musical theatre. Learn more about Art Camp.